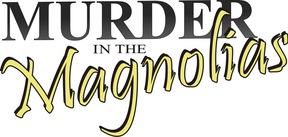 Murder in the Magnolias
Dessert Theatre
June 2-4, 2016
Colonel Rance Chickenwing has kicked the bucket, leaving the secret of his buried treasure for a houseful of demented relatives to discover. Soon, there's another death and the mystery at Belle Acres must be solved by Sheriff Billy Jerk. Toss in a prehistoric garden complete with murderous honeysuckle vines, a Voodoo Woman, a menacing hurricane, and a series of devastatingly hilarious "monologues," and you've got a pretty good idea of the fun in this off-the-wall spoof.


Dessert Theatre Information
Performance Schedule:
6:00 P.M. - House Opens
6:30 P.M. - Dessert Served
7:00 P.M. - Performance

Ticket Price:
$15.00 per Patron

Desserts themed from the show will be served, as well as tea and water.